​​I feel so confident in my skin
Best product ever!!!!! Let me say I've been using your turmeric butter for over a year and it has yet to disappoint me I have not switched to anything else because I love it so much! I refer this product to all my friends! Your most recent review by Sean N. Is one of my dearest friends! I just want to show you the blessing you guys gave my skin, I feel so confident in my skin. Thank you for these amazing products!  - L.R.
Using Uncle Benney's Turmeric Natural Lightening Butter
AMAZING!!!
This system is absolutely amazing I have tried many products hoping that it'll work. My struggle was never really with acne but I have or should I say HAD!! dark spots on my cheeks and around my mouth area. I bought the complete system and I am in love,​my skin has never been better it's so soft and my skin tone has evened out and I've only been using this for only two weeks!!! My only regret is that I didn't take pics throughout the last couple weeks to show my process, but trust me this system is AWSOME!!! I recommended this to my sister for my niece. I can't wait until she gets hers in the mail we will definitely be recording her process to show another great testimony!!! Thank you oilblends.​
My hyperpigmentation has reduced sooooo much !
I am happy with my results from this product ! I started using the turmeric natural lightening bar along with the Uncle Benny's Vitamin E cream and have noticed my dark marks and some of my hyperpigmentation has reduced sooooo much ! I am now purchasing my second turmeric bar soap and I cant wait to see the progress of my skin !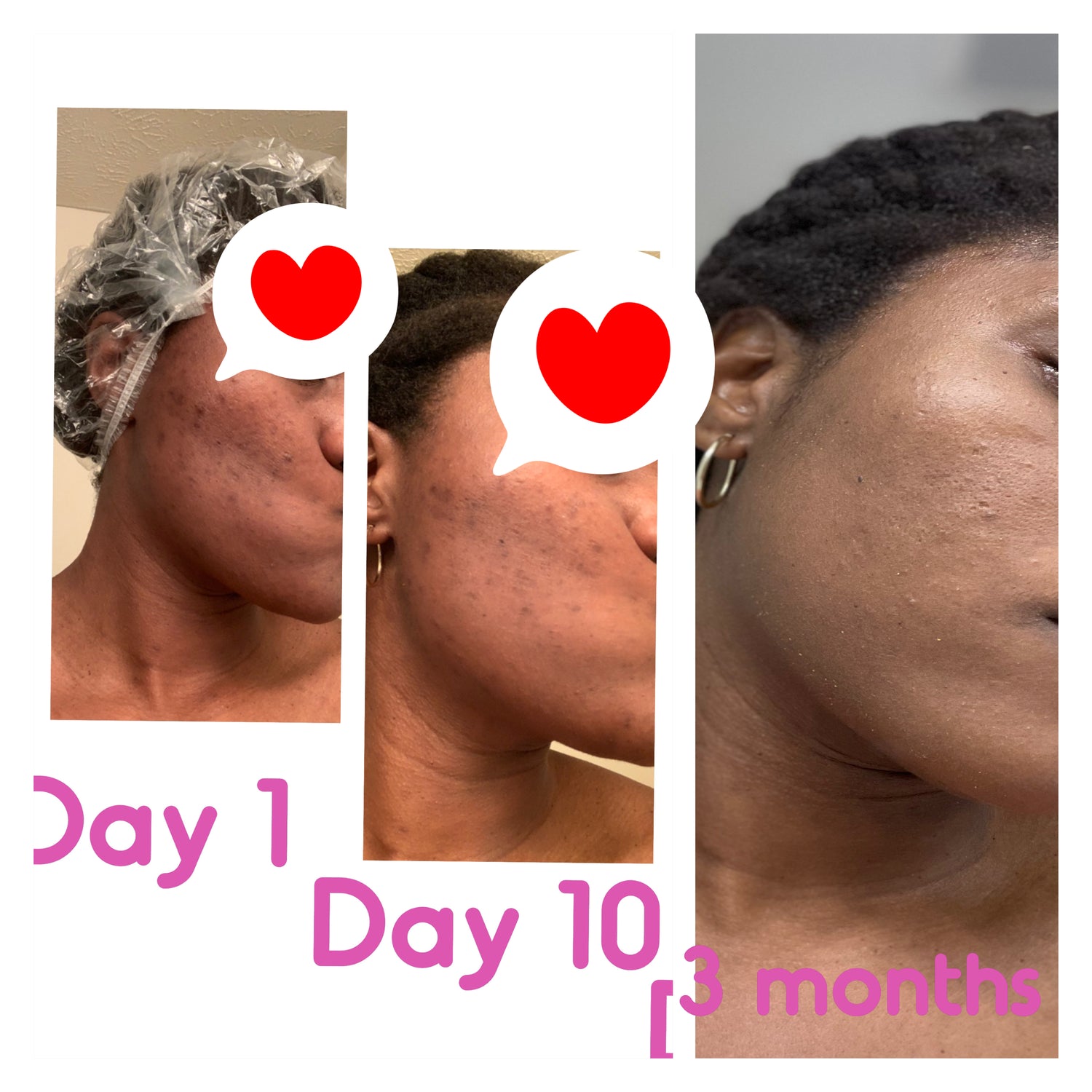 Life changing!!
Thank you so so much!! I started with just the turmeric soap and vitamin E cream but then I ordered the turmeric butter and aloe face scrub! Life changing!! See for yourself!
I Have Acne-Prone Skin,
along with combination skin where it appears dry during the day but by noon, it's oily. I heard about the turmeric bar soap and purchased it last spring.
Believe me you....this stuff works wonder. I noticed a slight difference, my acne disappeared and my face is not as dry or oily as before. IT'S JUST RIGHT!!!! My sister has been studying my face and finally told me that my skin looks really good. I recently repurchased the same bar and also added the turmeric butter...I love it and won't use anything else for my face... Bola, USA
My Skin Is Healthy...
Before

AMAZING PRODUCTS! I ordered the turmeric butter & turmeric soaps. Great deal btw! ever since I've started using them my scars have cleared up so much, my skin is healthy, smooth, vibrant, radiant, all the above! Again. So happy. So thankful. 10/10 recommend

After

Update: hello!! 
Your products work great! I just love the vitamin E severe face cream bc it  helped heal some scars I had on my face that were old but then I got a few new break outs stress, bad eating, life changes etc and i feel it helps maintain my skin, I use it once in the morning and then I use my turmeric face cream at night and I've been able to stick to just your natural products and not using harsh acne medications :) All is well, I appreciate you all reaching out! Love your products, pls don't ever stop making them! 

- S.N.
​I Love Your Castor Oil Treatment...
Hello, I just wanted to send an email to tell you how much I love your Castor Oil Treatment. My eyelashes were falling out really bad so I went to clore and picked up a bottle of this. Within two weeks I had to cut down to using it every other night because my lashes are so long and thick they look fake. When I wear mascara its just ridiculous. So I'm going to start using it on my hair at night too.
Please don't ever stop making this, I love it so much . Anna
Your products saved my skin - Using Turmeric Bar, Turmeric Natural Lightening Butter, Turmeric Aloe Exfoliating Facial Scrub and our Vitamin E Face Creme
Before

This has been the nightmare I've been living😖🤧😭 Never hated my skin so much in my life

After

Just took these, I have absolutetly no makeup on just sunscreen and lipgloss. The difference from the first photos I sent to you is unreal😖. Thank you so much 😊
​I Did Not Believe Your Products Was Going To Work...
Personally, I did not believe your product was going to work, My grandfather was hospitalized because he fell down the stairs and broke his hip. He was bed ridden for a while. He developed bedsores and his feet became discoloured, reddish and blotched. One of your sales rep, his neighbour, gave him a Castor Oil Treatment which he used for almost two and a half months. Within that time, the skin discolouration and redness disappeared. I am now a believer of your products. - D.C.
SKIN CARE UPDATE || CLEARING DARK MARKS & HYPERPIGMENTATION WITH QUEEENYKAY
​​​This Soap Has Saved Me...
Hello, My name is Talisha. I have been using your organic bar soap, called citrus lime. I must say that it is AMAZING. I've been having a hard time with my skin, due to daily stresses.I have tried every product you can think of. I even went to a dermatologist, and even then I was unsuccessful. ​This soap has saved me! It controls my oily skin, it has evened out my skin tone. This soap Is also fading my old acne scars. I don't usually rave about products, but I even went as far as posting how amazing this soap is on Facebook. Thank you! Your soap has saved my skin. Best regards 
Part of my very simple facial cleansing routine
Dear OilBlends, I would like to extend a great big THANK YOU!!!! I absolutely LOVE your Tea Tree Oil Treatment. I have tried everything for the blemishes on my face since I was 16 years old. I use to have monthly visits to the dermatologist to have my unsightly acne injected.

​ I am now 40 years old I finally found something that actually works on my sensitive skin and regular acne breakouts. Your Tea Tree Oil has been my saving grace! In addition to clearly up my acne and prevent future break-outs it also took care of the dark spots associated with old break-outs. I now use it as part of my very simple facial cleansing routine and I will never look back! - K.G.
​I Love Your Cocoa Butter Body Oil...
Dear OilBlends, I LOVE your Cocoa Butter Body Oil with vitamin A, D & E! I used it during my entire pregnancy night and day and even after my son was born and I now swear by this product to prevent those dreaded pregnancy stretch marks! It actually works! I a have smooth, even, stretch mark free tummy to prove it and I look forward to getting pregnant again! - K.G.
Customer sharing results using our Beauty Enhancement System ​- ​Uncle Benney's plant-based Vitamin E Crème to clear problem skin
Consistent Use of Products

Before

After
​​"These products have been the holy grail for me! I've been using the vitamin e cream with the turmeric bar for months and I'm as happy as I can ever be ❤️.  Definitely got a loyal customer!  Thank you! Also, you are allowed to share these pics and tag me, just so this can help someone else who was also in my situation ❤️"
Regular price
Special price
$34.99 USD
Unit price
per
My Hair Is Growing Back...
​My hairline was thinning because of continuous braiding. After using OilBlends Jamaican Black Castor Oil, I noticed significant improvement.. My hair not only started to grow back but it was thicker and softer. Donna
​I Have A New Love For My Kids Hair...​…and mine!! Over the last couple months I have been doing a trial run of a line of oils from "Naturél." These oils have really surprised me and the kids love it because it leaves their hair super soft even while wet. Not to mention the hair growth. It's unbelievable. No more dry or flaky scalp. No more itching in between washes. The scent is also very pleasant Don't have time to do a deep condition? Try this process… Shampoo or rinse the hair. Saturate the wet hair with a combination or any one of these oils. Add your regular conditioner (optional). Cover with a shower cap. Hover the blow dryer over the cap for a few minutes (or sit under the dryer if you have more time). Rinse and continue styling. If you added conditioner (as per step 3), rinse it thoroughly. This process leaves the hair feeling silky soft all the way through to the final steps of styling.

​It's amazing!! Even if the hair starts to air dry before you can finish styling, it remains very soft and manageable. As a moisturizer these oils are also amazing. When my girls' hair is braided or twisted for twistouts, I simply apply the oil to the scalp (very quickly rubbing fingers along sections) and along the braid or twist. This keeps the hair super soft. If their hairline starts looking frizzy and dry I simply add the oils to a spray bottle combined with water, spray and brush, or you can add the oil without the water and you will still get wonderful results. My mother, whose hair is permed, has also tried these oils and they have reduced her breakage from regrowth in between perms and along her hairline. She has also noticed more new growth and her hair stays very soft and shiny for a longer period of time. One more bonus with these products is that they can also be used on the body by simply being added to any body moisturizer.

​This provides longer lasting moisture for my kids (and for myself) especially during the winter months. It does wonders for the elbows, knees and feet, keeping them soft and looking lovely (*wink, wink*). This has been my first major experience using oils so if this is old news then the laugh is on me. My household cannot be happier right now. All I know is, these oils have truly made a difference and I'm now a lover of natural and Naturél oils (*big smile*). - Natalie
I love your turmeric soap
Before

After

Hello, I just want to say that I love your turmeric soap.​ Thank you for the opportunity for me to purchase it earlier this year. I have tried a lot of soap brands and out of every brand you guys had the best result. I will most likely purchase more in the future, along with other products." - M.S.
Let customers speak for us
We would love to hear from you! Let us know how the product is working for you...