Uncle Benney's
Regular price
Special price
$79.99 USD
Unit price
per
Special
Sold out
Uncle Benney's Vitamin E Extreme System - ​For Severe Hyperpigmentation, Problem Skin, Dark Marks and Spots, and Skin Inflammation  
You Get: 
1 Tea Tree Oil Treatment 1 oz
2 Turmeric Natural Lightening Bar 
1 Turmeric Natural Lightening Butter 4 oz
1 Vitamin E Extreme Face Crème 4 oz


Easy-To-Use ​in 4 Simple Steps
Step 1 - Cleanse - OilBlends - ​Tea Tree Oil Treatment

Heals the skin, helps control acne and bacteria.  Use before and after hair removal to help heal ingrown hair problems and help stop breakouts.
Step 2 - Wash - Soaps That Heal Turmeric Natural Lightening Bar

Fades skin for a more visibly, brighter, even skin tone. 
Step 3 - Moisturize - Uncle Benney's​ Vitamin E Extreme Crème

Helps to remove dark spots and clear up your face, neck and body. Use as a daily moisturizer to help protect, repair, and  improve  the appearance and smoothness of your skin.
Step 4 - Turmeric Facial Mask 

To help heal hyperpigmentation and inflamed skin, even skin tone
...Full Steps
Share
View full details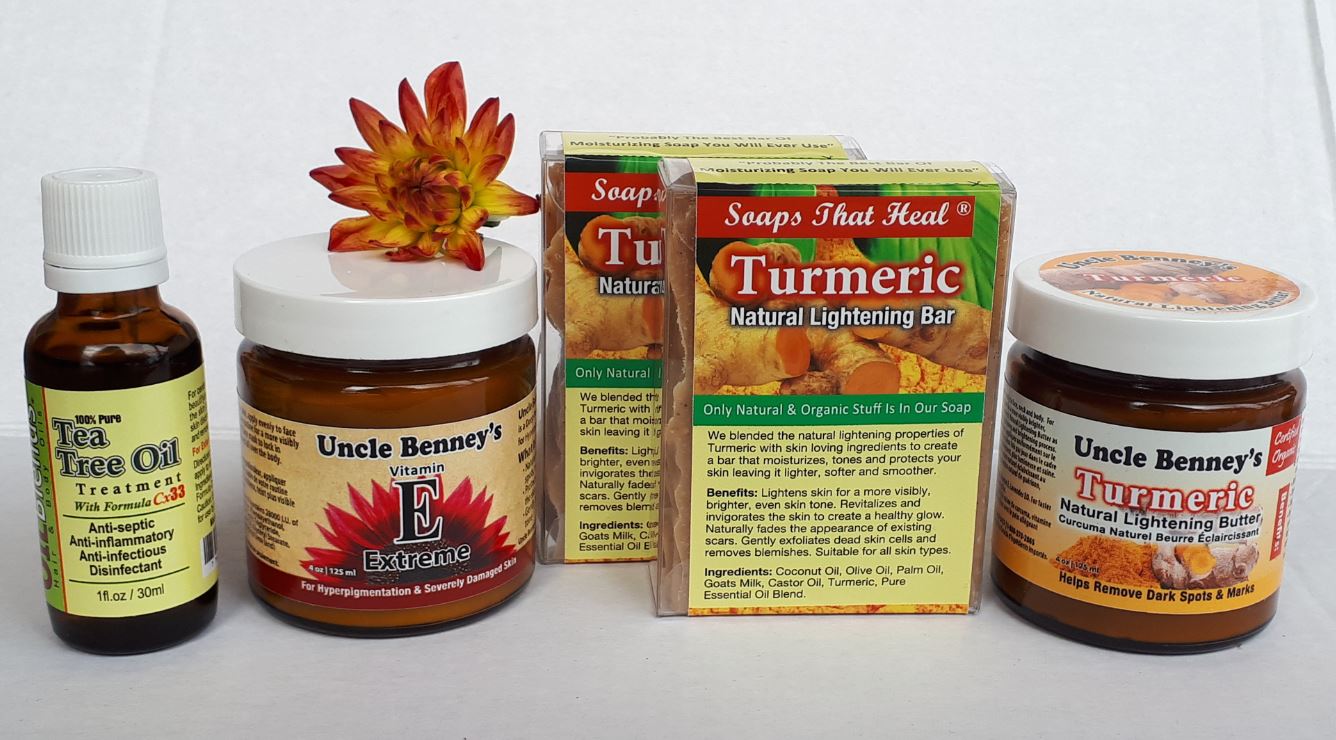 How To Heal Your Skin Using Traditional Plant-Based Beauty Systems
​Helping People Solve Their Skin Problem Is Our Passion...

The Following Instructions Applies To Our Product Line For Helping to Control Hyperpigmentation and Skin Breakouts, Removing Dark Marks, Dark Spots, Skin Discoloration, Eczema, Acne and Acne Prone Skin